by Hope Beitchman, Marketing and Communications Intern
Tuesday night, we had the honor of hosting Holocaust survivor and Aggie Grandfather, Max Galuben. The 88-year-old survivor shared his story and spoke out against genocide to a standing room only crowd in the Memorial Student Center. Glauben has endured many horrors including the Warsaw Ghetto, the Maidanek, Budzyn, Mielec, Wieliczka, and Flossenburg Concentration Camps, and the "Death March to Dachau".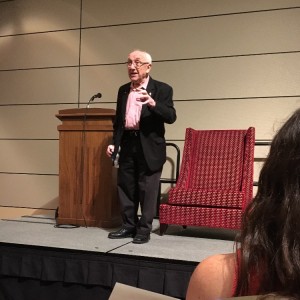 "It's hard to hear, but it's important that I hear it and pass it along to all my peers in College Station," said Delaney Becker, senior allied health major and Glauben's granddaughter. "I think it's very important to the community to hear what happened so that they can remember and pass it on to their friends and children. If it's not passed on it's going to be forgotten."
Glauben was interred in the Warsaw Ghetto at a very young age and was moved from camp to camp before being liberated by the Americans. When he came to the United States he had no family and spoke very little English. However, only a few years later he would be drafted to serve in the Korean War.
Speaking to a crowd of mostly university students, Glauben spoke words of encouragement to never give up and never stop learning. Despite how poorly he was treated during the Holocaust he believed, "Life must go on and regardless of how badly you hurt, you don't want to give them the satisfaction of what they're doing to you."
"Most of our Jewish students grow up learning about the Holocaust," said Rabbi Matt Rosenberg. "For us at Hillel we well commanded to share the story of the Holocaust with the greater community."
Since he has been liberated, Glauben has made eleven trips on the March of the Living where he takes a group of teenagers to learn about the Holocaust in Poland and Israel. As he continues to share his story, Glauben said his goal is to do so while honoring is family and those who perished in the Holocaust and in a way that doesn't offend anyone or cause hate.
Glauben now resides in Dallas, Texas and has three children, one daughter and two sons, seven grandchildren, and one great-granddaughter.
Local media also covered the event in full and Glauben's story was featured on the front page of The Eagle, on KBTX news, and in The Battallion.
For more information on events like these, follow Texas A&M Hillel on Facebook, Twitter and/or Instagram at aggiehillel.